As a home cook and baker, one of my major concerns has always been safety in the kitchen especially when it comes to my stove and oven. You know how sometimes you're switching your oven off like it's second nature without really thinking about it, and then you leave the house, are in your car driving off somewhere and you suddenly wonder, Wait, did I turn my oven off properly?
Of course I always do, but that's just an example of the extent of my "paranoia", if you will. There's so much comfort in knowing that every time you turn on your stove or oven you will be able to cook and bake with peace of mind because the tools you're using are all in perfect condition, which is precisely why it's important for me to research about gasul that I know will deliver safety, aside from being sulit or worth my money. And that's where Petron Gasul comes in.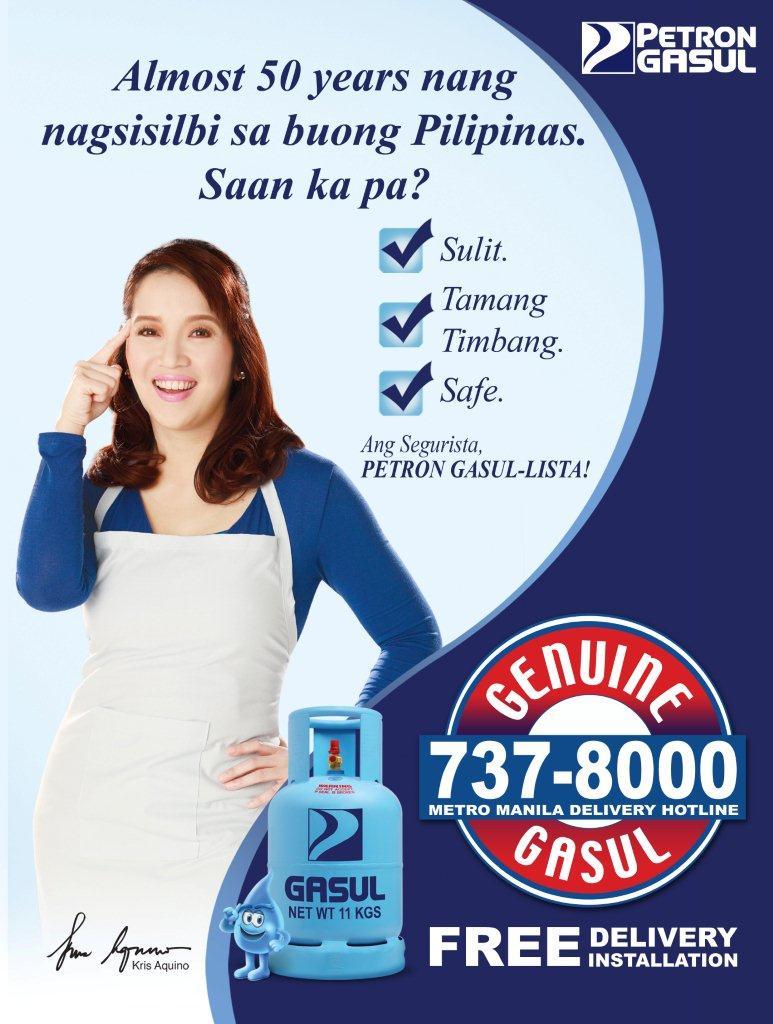 As the leading LPG brand in the market, Petron Gasul is sakto, sulit, and safe. It is sakto because you can trust that it promises correct and accurate weight for every cylinder. It is sulit, because it has been tested to emit a true blue flame for faster and more economical cooking. And most importantly, it is safe and has been tested to ensure a leak-free experience as it is a laserprinted sealed product.
Keeping these things in mind is essential for every household, and not just for people like me who blog about my kitchen adventures. I'm a firm believer that every family should spend their mealtimes together to foster better relationships and closeness, so obviously I put great importance in the food I prepare for my family. But in order to do that I need the instruments I can trust. I want to be able to make dishes and desserts with ease, not worrying about whether or not the tools I use to do that will fall short. And that includes for my gasul of course.
Petron Gasul has been in the industry for more than 50 years and has proven time and again that it is a brand you can trust to help you make yummy dishes such as this Kimchi Fried Rice recipe I'm about to share with you!
Adding a spicy kimchi twist to your rice is a great way to make it extra special, and it's super easy to do. Kimchi can now be found in all supermarkets these days, but I highly recommend buying the fresh non-bottled versions they pack every day at the Korean stores in Cartimar.
The procedure is the same as making regular fried rice. All you have to do is stir-fry the rice with garlic and butter, kimchi, the kimchi juice, the gochujang paste (aka holy grail paste you must have in your pantry ALWAYS), and sesame! Simple and quick.
And of course, we must not forget to top it with a sunny side-up egg! Two things I love in a bowl: kimchi and a runny sunny side-up. How can anyone resist this deliciousness? You don't have to run to a Korean restaurant anymore just to get a fix, and neither do you have to be a master chef. 😉
Kimchi Bokkeumbap 김치볶음밥 (Kimchi Fried Rice)
Easy recipe for fragrant and delicious kimchi fried rice! Remember to use fresh kimchi for best flavour.
Ingredients
4

Tablespoons

butter

3

scallions

,

sliced (white part separated from green)

3

cloves

garlic

,

minced

1½

cups

chopped kimchi

3

Tablespoons

kimchi juice or water

,

or more as needed

3

teaspoons

gochujang sauce

1

Tablespoon

soy sauce

4

cups

day-old cooked rice

1

teaspoon

sesame oil

1

teaspoon

sesame seeds

2

teaspoons

salt

,

or as needed

¾

teaspoon

pepper

,

or to taste

4

eggs

nori and red chilli flakes

,

optional toppings
Instructions
1. In a wok, over medium heat, melt butter. Add white part of scallions and minced garlic, the cook, stirring constantly until fragrant.

2. Add kimchi and kimchi juice. Cook for 1 minute to allow the flavours to combine with the scallions and garlic.

3. Add gochujang sauce and soy sauce. Cook, stirring for a minute until kimchi starts to get soft. If kimchi starts to stick to the bottom of the wok but is still not cooked through, add a bit more water or kimchi juice. Make sure to cook the kimchi thoroughly before adding rice.

4. Reduce heat to low and add the rice, stirring thoroughly until well-combined. Don't forget to stir from the bottom so that all the rice is covered with the kimchi and its juices. Cook thoroughly until the rice is warmed through, about 2 minutes. Toss occasionally to keep the rice from sticking to the bottom of the pan.

5. Sprinkle is sesame oil and seeds, plus 2/3 of the green part of scallions, then toss the rice once again to mix everything up and avoid sticking. Add salt and pepper, adjusting according to taste. You can cook the rice until slightly toasty; otherwise it is ready when everything looks well-combined and heated through. Divide the rice into four bowls.

6. On a separate pan, fry the eggs sunny-side up. Top the eggs on each bowl of kimchi rice, then sprinkle with remaining green part of the scallions. You may also sprinkle pieces of nori and red chilli flakes on top, if desired.
Notes
Adapted from Just One Cookbook blog
With the help of Petron Gasul, you can feast on this delicious Kimchi Fried Rice just like that! Though this rice is already flavourful on its own, don't hold back on serving it with other viands and dishes! Or maybe even more kimchi? 🙂
Making food is hassle free with Petron Gasul as your partner, and it's even more convenient with their Metro Manila delivery Hotline (737-8000). Petron Gasul assures you that your gasul will be delivered sakto, sulit, and safe from an authorized dealer.
Petron Gasul also offers the P10 savings with every Petron Gasul 11-KG refill upon presentation of Petron Value Card at participating Petron Gasul stores. Husbands or driving mommies purchasing Petron Gasul 11-KG at participating Petron stations can now also earn Petron Value Card Points.
Go on ahead and purchase the trusted Petron Gasul, so you can try your hand at producing the best recipes! You can also collect the kitchen tips posted regularly on the official Petron Gasul Facebook Page!
Full disclosure: This post is sponsored by Petron Gasul.