To say that Hilton Manila's Hua Yuan Brasserie Chinoise made a banging first impression would be an understatement. Out of the Chinese restaurants I've managed to visit in different hotels, the interiors here are perhaps my favorite. The ambiance is right up my alley. It feels very classy because the restaurant doesn't go overboard with the decor. The decor also complements the furniture and all those metal dividers rather than clash, and there is this feeling of spaciousness inside.

Speaking of spacious, not only does this restaurant have a big open dining area with cozy booths, it also has three private dining rooms that can seat 10 to 12 persons each.
Having never been to Hilton Manila since it opened in late 2019, I didn't expect to immediately get a good feeling about Hua Yuan Brasserie Chinoise. As I sat down on my table, I was fervently hoping that all the good vibes will continue on once the actual food arrives. After all, the restaurant was named to Philippine Tatler's list of Best Restaurants for 2020.
Hua Yuan Brasserie Chinoise is Hilton Manila's premier Chinese restaurant with a focus on Shanghainese cuisine. Headed by award-winning Chinese chef Kevin Xu, each dish on their menu is made from high-quality organic and seasonal ingredients, minus the use of added flavor enhancers and MSG. Their menu is a collection of carefully selected dishes that are a mix of both modern and traditional executions, and reading through it really makes the mouth water in expectation.
We were served with one of their signature Floral blooming teas first and foremost. The Double Dragon Pearl Blooming Tea was recommended to us, and since I don't really know anything about floral teas, I went with it. This tea is green tea based, but what they did was take a combination of marigold, globe amaranth, and jasmine flowers then wrap them all inside green tea buds.
Once they add this little floral tea "package" into the teapot, they then pour boiling water over it. Allowing it to steep for at least 5 minutes, the green tea will slowly uncurl itself to reveal all the flowers inside. The fragrance of the flowers now becomes infused into the water, creating a lovely tea that's neither too floral in smell nor in flavor. Frankly, this was a very relaxing pot of tea. Even staring at the flowers in the teapot was relaxing.
Also, because this is non-caffeinated, it's perfect for those who are trying to avoid that caffeine buzz.
We immediately moved on to the meal proper once our tea was ready. To start, each diner gets a complimentary appetizer which is simply called Rice Cakes. It's made with radish and scallops as well, then fried until the outside develops a crunchy crust. It reminds me a bit of a hash brown in terms of appearance, but the eating experience is completely different. It's got a toasted, crisp exterior, but the body is chewy with a really nice bite to it.
It's like a next-level radish cake, paired with a dollop of spicy mayo on top. I liked this so much, all I could think of while eating this was, 'If the complimentary appetizer is like this already, it looks like I am in for an awesome meal!'
When the Trio Appetizer arrived, I saw a lot of familiar dishes. I think this arrangement is intentional, because when I started eating these by the order of how they were laid before me, I found that there's a certain progression of flavor with each dish. 
You start with the Jellyfish with capsicum, which is mild in flavor. You can add a bit of soy sauce and chili oil as you wish, but if you want to really taste the freshness of the jellyfish, you can eat it plain.
From mild, you progress to the salty Braised bran with mushroom. It's a good thing they serve it in such a small amount because this has the potential to overload your senses with flavor. It's a strong salty-sweet profile, and since the bran dough absorbs flavor really well, you get a full hit of that flavor in each bite.
But after that second bowl, you get to the bowl of Heirloom shrimp. This is easily my favorite out of the three appetizers. As the last dish you eat, it dials your tastebuds back to middle ground. The natural sweetness of the shrimp balances out the flavorful seasoning, creating a balanced but very attention grabbing dish. There's a bit of a playful tang in there too that makes you want to keep eating. No wonder this is one of the bestsellers at Hua Yuan Brasserie Chinoise!
When the Cod Fish with Century Egg Soup arrived at our table, I wasn't really expecting much. It looked very much like a fancied up version of an egg drop soup. Well I was very wrong to underestimate this, because it became one of my favorite dishes during this meal. It had generous pieces of cod fish and century egg, but not enough to overwhelm. Century egg has quite a strong flavor, and there was just enough of it here to make the dish interesting.
I loved getting bites of the codfish alongside the veggies and shrooms that give varying textures. I imagine some people who dislike peas will take the time to painstakingly remove them from this soup, so just to cover that, I want to mention that the peas in this soup don't joke around. They aren't the frozen type that become mushy once cooked. These are fresh, flavorful, and frankly, hard to ignore peas. I guess that's the thing when you have a soup base that's just mild enough to make the add-on's shine.
My brother added some black vinegar to his soup, but I actually prefer it au naturel. It tastes good either way, but I think the flavors of the fish and century egg come out more sans the condiments.
This might have been the longest I've ever talked about soup, and that in itself is telling.
Now the next dish arrived with much fanfare. It was in a golden serving tray covered in this giant glass lid, and when the lid was lifted up, smoke swirled out of the tray. Oooh lala…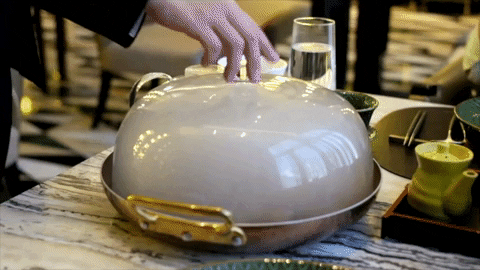 The dish turned out to be Fragrant Tea Smoked Duck, which is one of the chef's signature dishes here at Hua Yuan Brasserie Chinoise. I had some pretty lofty expectations about this dish considering how it was presented, and I am happy to say they were well met! The duck meat was tender and flavorful on its own, but once you add the hoisin sauce, the smoky flavor really jumps out. My brother and I polished off this entire serving. (Sorry not sorry…)
After that really stellar duck, the Braised Pork Belly "Hong Shao Rou" with Eggs fell way short. The meat was actually quite tough and dry, and I found that the sweet and smoky sticky sauce wasn't very different from similar dishes I've had before. I wish the meat was more tender.
Another dish I was expecting to love but didn't quite hit the mark for me was the Wasabi Coated Crispy Prawns. I love prawns, and normally I love prawn dishes cooked in this style, but there was a weird bitter aftertaste to this version. The coating got a bit soggy after a while, which was understandable, but I wish that green wasabi drizzle managed to evenly coat all the prawn pieces. The non-drizzled pieces tasted a little salty. What I did like about the wasabi sauce was how it wasn't too in your face (as wasabi often is) but you will still recognize it.
In many ways, this Crispy Eggplant Pyramid with Beef Chili Sauce dish was very addictive. For one thing, I really like eggplant. I think I ate at least four pieces? The only issue I had here was that not all the eggplant sticks were coated with the sauce. Speaking of the sauce, I found it to be more sweet than spicy. It reminds me of honey actually. It's sticky with some citrusy notes and a light tone of chili. To satisfy my spicy cravings, I decided to dip the eggplant in chili oil lol. But do note, I am a sucker for spicy things, and I like my fried food with a spicy condiment.
Whatever my personal issues with the sauce, I cannot deny this was very nicely cooked. The eggplant was tender but not mushy, and it was encased in a crunchy shell that was neither too thick nor too thin. It snaps and crunches with a gentle bite. I would order this again and mix the entire thing up to properly coat everything with the sauce before eating. (Except it wouldn't be a pyramid anymore.)
Of course, no Chinese feast would be complete without rice, and the Shanghai Fried Rice made me wish I had more room in my stomach. This rice is really really good actually. It has just the right amount of flavor to make it both good by itself or with another dish. I loved the crunch of the veggies, and the sudden punch of saltiness from the ham, but the best part of this dish was the texture of the rice itself.
They managed to make the rice halfway to being toasted, while still maintaining fluffiness. I kept saying I was full but I kept taking small spoonfuls of rice. This was one of the most addictive Chinese-style fried rice dishes I've had in a while!
It's funny how the two dishes I was underestimating the most (the soup and the fried rice) became two of my favorites from the meal.
But you know what took the number one spot? The Chilled Coconut Cream with Peach Gum and Taro Ball. Such a mouthful to name, but fitting for a dessert you'd want to keep scooping mouthfuls of. Most Chinese restaurants in Metro Manila don't normally have any spectacular dessert options, so to be honest, I wasn't really focused on the dessert part of this meal. (Although I do love me some Mango Sago and buchi lol.) But you know what? This dessert blew me away.
I keep thinking if I've ever eaten something similar to this before, and all I can come up with is that the structure of this desserts reminds me a bit of Taiwanese soybean pudding topped with all sorts of glutinous sweets. The texture of this coconut base is reminiscent of taho. It isn't a firm jiggly base, but more like something silky that you can scoop without much effort. The taste of the coconut is very apparent, but also very delicate. It's also not sweet. The sweetness you get from the toppings. It's actually not a very complicated dessert, but it's so well executed.
I love the fact that the toppings were all different textures and flavors. They played so well in the mouth! The peach gum is super chewy while the taro ball (that is not really shaped like a ball) is quite a crisp type of jelly. You also get softer bits of coconut gelatin topped with toasted coconut flakes. Ugh. I don't know what to say anymore. I was really quite close to bursting when this dessert was brought out, BUT I STILL FINISHED IT. I loved this dessert so much. 
I have to say, eating at Hua Yuan Brasserie Chinoise was a charming experience. It wasn't perfect, but all the good things certainly outweighed the bad. All the dishes with asterisks are the ones I recommend from what I've tried. Of course, there is a big gap in food quality if you compare this place to your typical Chinese restaurant, because this is where they justify the price of their dishes. Unsurprisingly, the prices of the dishes here is what you would expect from a 4-star hotel. Likewise, the quality is too. That said, Hua Yuan is definitely more for special occasion dining.
I also wanted to highlight the excellent service here at Hua Yuan Brasserie Chinoise, and I'm not talking about the attentiveness they afforded me as a blogger while I was there. As I ate, I was actually able to observe how they interacted with their other patrons. There was one table close to ours that literally spent about 20 minutes ordering, but the staff spent as long as it was necessary to ensure they actually got to order whatever they were craving that day. I overheard detailed explanations about the dishes which eventually helped the customer decide what they wanted to order. Frankly, not every restaurant will have people who go that extra mile for their customers, 4-star or not. It's something that really stuck to my mind.
With everything that I ate and experienced here at Hua Yuan Brasserie Chinoise, the question of whether I would happily return has an easy answer: Yes! I would be especially happy to return for that Chilled Coconut Cream dessert. But to tell you honestly, flipping through the noodles section of the menu was also a good motivation for me. I am crazy about Asian noodles, and the Dan Dan Mian was sitting there on the menu, calling my name. 
~~~
Hua Yuan Brasserie Chinoise
2nd Level, Hilton Manila Hotel 1 Newport Blvd.,
Newport City, Pasay, Metro Manila, Philippines
Hours: Sunday to Monday Lunch: 11:00 am – 2:00 pm | Dinner: 6:00 pm – 10:00 pm
Contact No.: 
Website | Facebook
Full disclosure: This lunch was hosted by Hilton Manila, but I received no compensation for writing this feature. All opinions stated above are my own.
If you enjoyed this post, follow me on social media for more. I'm on Facebook, Instagram, and YouTube. See you around!